Composite Kit x Dr. Monik Vasant
Contents of the kit
Included in the Composite Kit x Dr. Monik Vasant :
Occlusal modeling instrument (MV1X+ADEP N). To sculpt the occlusal morphology of restorations on posterior teeth and to carry effects and tints.
Sharp interproximal shaper (MV2X+ADEP N). To access those areas that others can't. Its blade-like thickness can be used to
shape interdental and awkward areas and handle very small increments easily. Tip diameter: 1.6 mm
Composite veneer spatula (MV3X+ADEP N). The spatula type end is angled to respect the 3 facial planes of anterior teeth when manipulating material. Its width and smoothness make it the perfect instrument to handles and shape larger masses. The other end of the instrument is designed to clean away excess at the gingival margins prior to curing. Width 3.4mm, Length: 18.8mm, Tip Diameter: 0.22mm
Small flat plastic plugger (MV5X+ADEP N). To place and press the composite in the small cavities. Spatula dimensions : tip diameter 0.22 mm, width 1.8 mm / Plugger dimensions: tip diameter 1.1 mm, length 6 mm
Large flat plastic plugger (MV4X+ADEP N). To place and press the composite in large cavities. Can also be used to model macrotexture. Tip diameters: 2.0 / 3.0 mm, 0.22 mm
Sterilization cassette (CLEANext B5)
Product variants
Instruments in the Composite Kit x Dr. Monik Vasant are also available with black ADEP silicone grips.
Product features
Sterilizable at 134°C.
Monobloc dental hand instruments, in medical grade stainless steel.
Made in Switzerland, hand-finished.
The patented surface treatment of Shadeline® instruments offers an improved coefficient of surface friction and abrasion resistance, for real ease of handling and shaping composite materials. The black color prevents bothersome reflections that occur on steel instruments. Shadeline® instruments will also last longer than traditional composite instruments.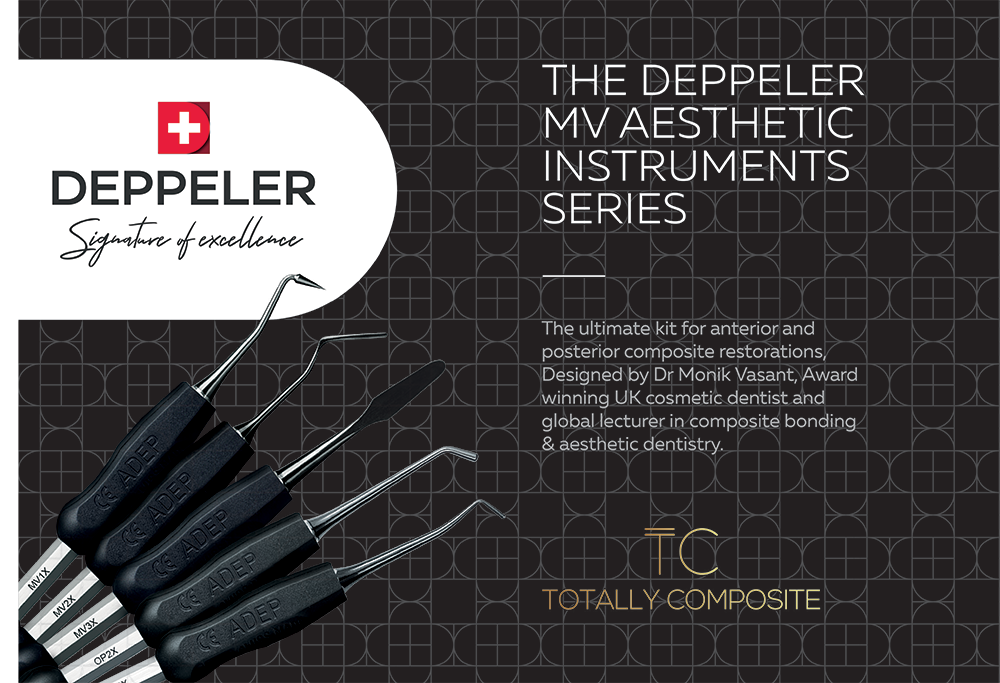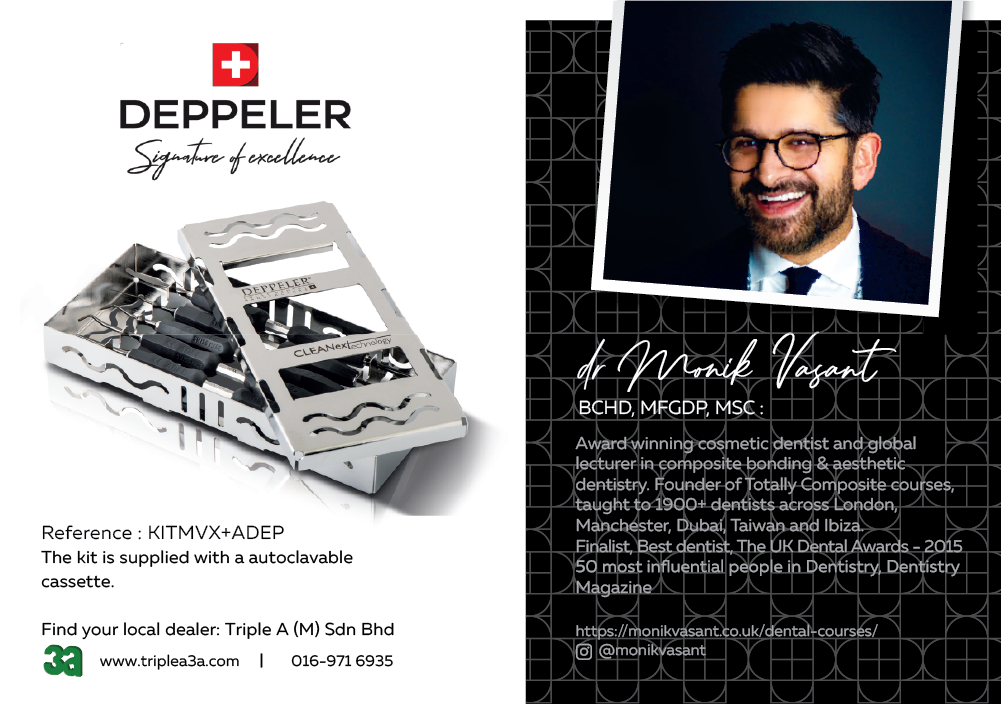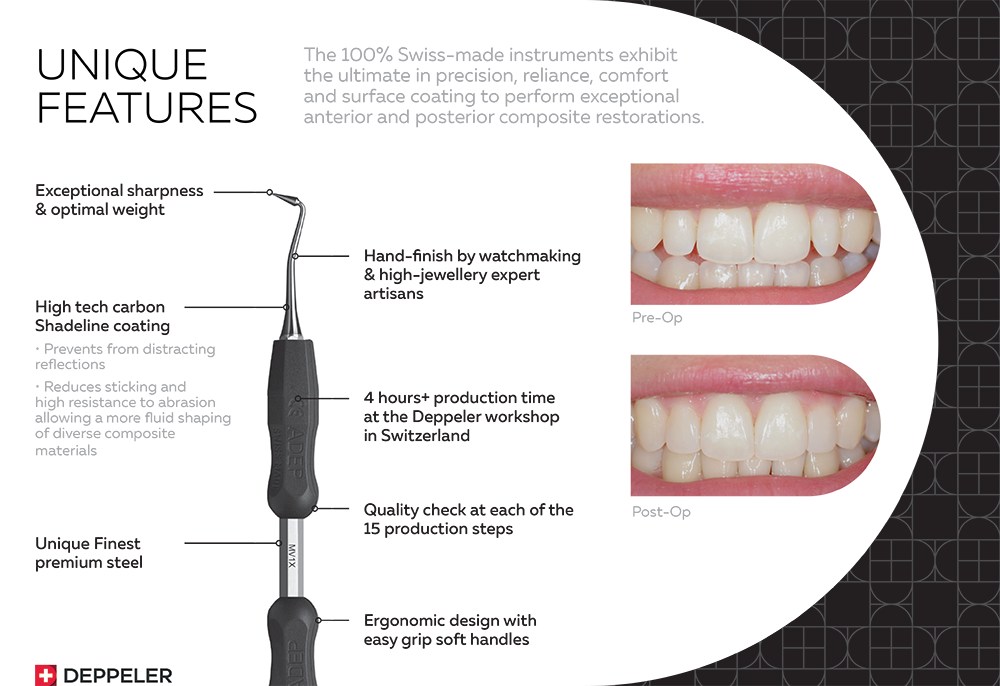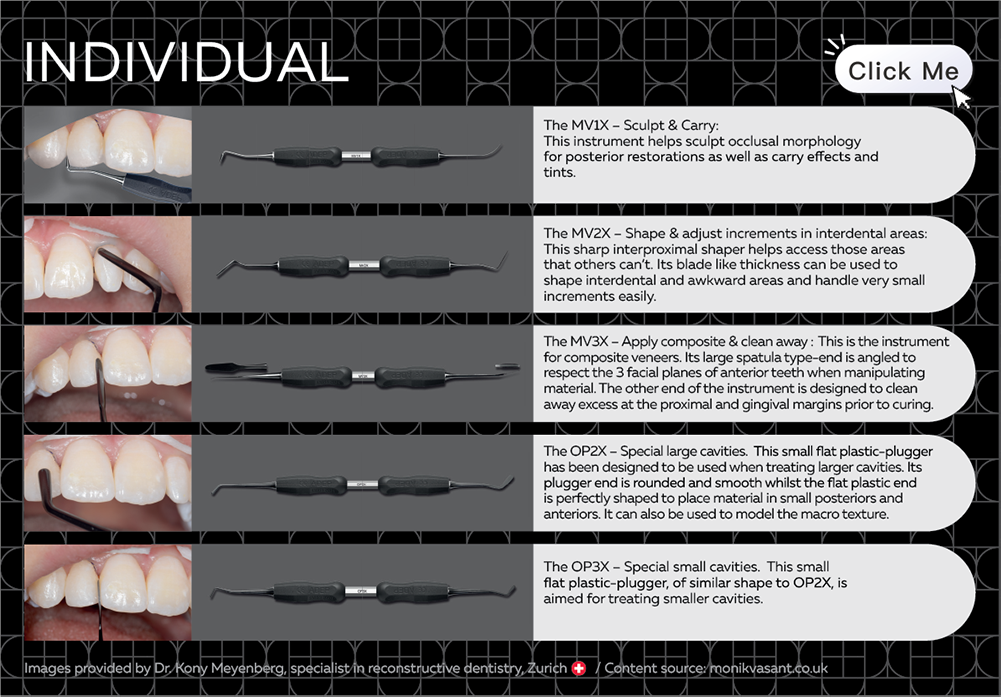 "These instruments have been carefully designed and masterfully crafted to ensure precision and provide the aesthetic dentist with the perfect tools to recreate beauty for direct composite." - Dr. Monik Vasant BCHD, MFGDP, MSC, London (UK)